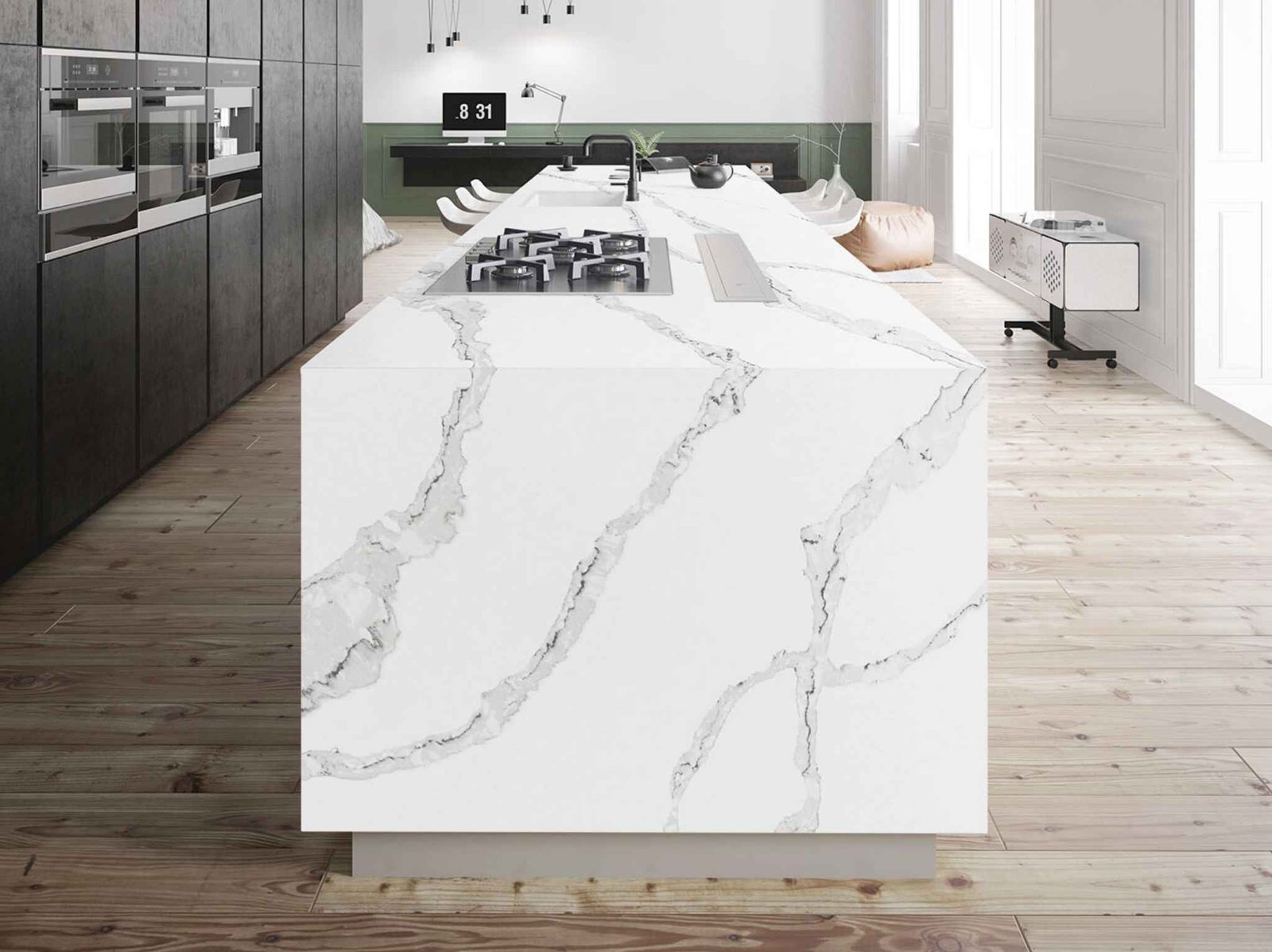 Raphael Stone Offers Modern and High-Tech Quartz Surface Products.
We bring a new perspective and approach to the countertop industry by responding to your needs. Raphael Stone® presently is the largest scaled supplier of artificial stone (also called engineered stone or compound stone) in North America. Engineered stone products are gaining in popularity and are often preferred over granite products because engineered stone requires less maintenance and has better resistance to stains and bacterial contamination.
Quartz Is The Answer For Those Who Love The Look of Marble But Are Concerned About Its Drawbacks.
Quartz, unlike granite, cannot be permanently stained by cooking oils or grease and is resistant to the effects of harmful acids found in common household products such as hairspray and other toiletries. Engineered stone is impervious to these hazards. Granite is also subject to unpredictable variations in color or pattern between slabs, which makes it difficult to match counter-top sections, engineered stone is uniform in color, pattern, and texture.
Quartz Surfacing Is Available In Colors Not Found In Nature. Raphael Stone Offers More Than 60 Colors And Patterns.
Our quartz stone is widely used for bathroom, laundry, & kitchen countertops, vanity tops, back-splashes, wet bars, tub decks, tub/shower surrounds, wall cladding & furniture. Raphael Stone products provide most of the benefits of natural stone without the drawbacks and limitations.
Quartz 93% Polyester Resin 7%
Engineered stone is the most durable surface material, combining the hardness and durability of quartz with the exceptional low maintenance qualities of man-made materials (resin). Quartz ranks 7.0 on Moh's Hardness Scale, which is used to measure the scratch-resistance of a material. Only the diamond (at 10), topaz, and sapphire (at 9) are harder than quartz. (Granite is ranked 6 on the scale). Our Engineered stone is more "stone-like," since it is a mixture of 93% quartz and 7% polyester resin pressed into slabs (or larger blocks) using Breton's "vibro compression vacuum process."