What is the best quartz countertop edge profile?
A quartz countertop edge profile refers to the shape or design of the edge of a quartz countertop. Quartz is a popular choice for countertops because it is a durable and low-maintenance material. The edge profile of a quartz countertop can range from a simple, straight edge to a more intricate and decorative edge. Some standard edge profiles for quartz countertops include the eased edge, the beveled edge, the bullnose edge, and the ogee edge. The edge profile you choose will depend on your kitchen's overall style and design and the look you want to achieve.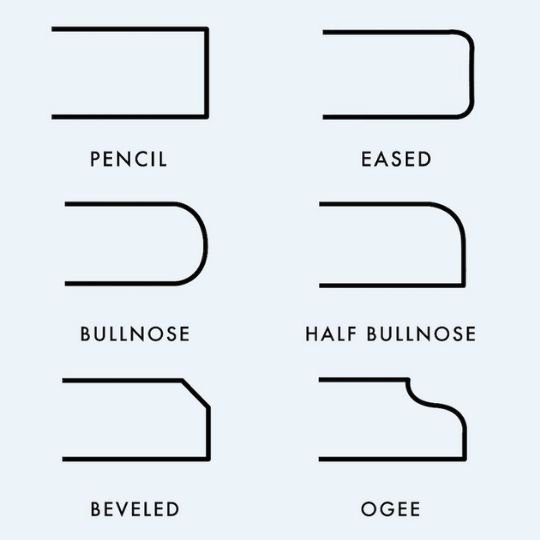 The Pros and Cons of Different Edge Profiles for Quartz Countertops
If you're seriously considering quartz countertops for your kitchen or bathroom, you know the drill: Measure twice, cut (or grind) once – and pick out an edge profile to last a lifetime! But with so many different edge profiles available, it can be pretty tricky to find the one that perfectly harmonizes with your kitchen or bathroom aesthetic. Everyone has their preferences, but as far as pros and cons are concerned, square edges tend to be the most resistant to chips and breaks, while ogee edges can add a bit of flair – if you prefer something bolder. Ultimately, it all depends on your style and needs; remember that no matter what edging profile you choose, rest assured that even with heavy use, quartz countertops are up for the long haul.
How to Choose the Right Edge Profile for Your Quartz Countertop
When choosing the right edge profile for your quartz countertop, there's no doubt about it – it's all about finding the perfect combination of form and function. Taking into account your aesthetic tastes and the amount of maintenance required is critical. Whether you're looking for something more modern or classic, a sleek peninsula, or a double-ogee bullnose, deciding on an ideal edge profile is sometimes tricky. But don't worry – with a bit of research and consideration, you can find the best option in your kitchen that meets all your practical needs. Just think what a show-stopper your quartz countertop with its striking edge profile will be!
The Benefits of an eased edge profile
When picking out the perfect stone for your home, an eased edge profile can be just what you need to make your project stand out! This unique profile gives your stone look a defined elegance, with no sharp edges or corners sticking out. Whether you choose granite, marble, or quartz for counters or walls, this profile will look great in almost any setting. Plus, running your fingers along its gently sloped edges offers an unforgettable tactile experience – best enjoyed with a side of polenta! With all these benefits, why wouldn't you pick an eased edge profile?
The Difference Between a Full Bullnose Edge and a Half Bullnose Edge
The difference between a full and half bullnose edge is subtle but essential! The entire bullnose edge will give your countertop a more finished look. The half-bullnose edge might be perfect if you want a less prominent edge with a classic touch. Choosing between them can be difficult, but both options are practical and give your project an elegant aesthetic. So choose whichever makes your heart sing – either way, it will make your countertop shine!
Which edge profile is best for quartz countertops – square, bevel, or ogee edges?
It all comes down to the edge profile if you're looking for a quartz countertop with the best possible aesthetic. Square edges provide a sharp, clean look that works perfectly in modern kitchen settings. On the other hand, ogee edges bring a touch of classic elegance. The beveled edges add depth and texture to any kitchen or bathroom. In other words, the only correct answer is whichever looks best in your space!
Now that you know all about the different types of edge profiles for quartz countertops and the pros and cons of each one, you're ready to choose the perfect edge profile for your home. If you're still undecided, we recommend going with a square or beveled edge – but ultimately, it's up to you and what will complement your kitchen best. Thanks for reading, and we hope this article was helpful! Visit Raphael Stone Distribution centers to get more information about it.